Key Stage 4 Option Choices
Introduction
Welcome to the Soham Village College Key Stage 4 Options pages. Choosing options is a crucial part of any students journey through school and we want to make sure both students and parents/carers have all the information available to make the best possible choices. This page will outline the various routes available and some other information around the process, such as where to get help. The courses available to choose from are listed on the right hand side and there is information about who should think about studying each course and the things it can offer students who choose it.
What can I do now?
The Options process formally begins in the new year but students should be thinking about what they would like to do now and finding put as much information as they can. The most important thing to be doing is having conversations at home about the options available and thinking about what kind of career your child would like to pursue.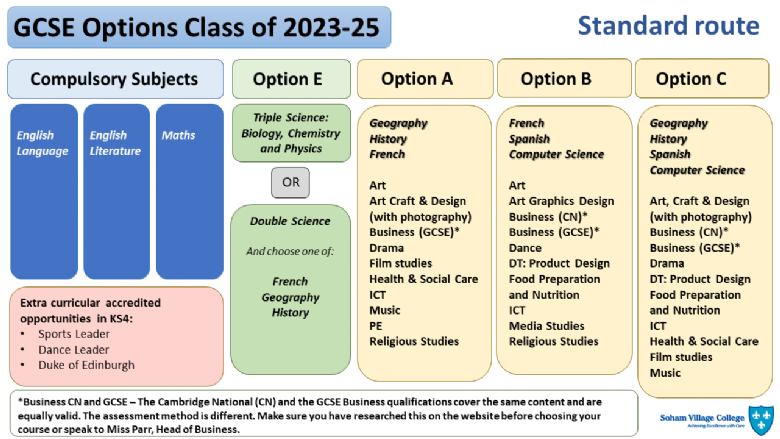 We plan to have an options evening on the 19th January 2023 where you will be able to find out more about the different subjects we offer. This is particularly useful for subjects that we only run at GCSE e.g. Business Studies.
Options Information Video:
Please note, the deadline for options is Friday 24th of March. Options choices will be submitted via an electronic form that will be sent out nearer the time. Currently, students just need to think about which subjects they would like to choose and make sure they have found out everything they can about them.
Types of Courses
Most students will take the standard route unless they are contacted otherwise to discuss either of the other two paths available. The standard route options form is available at the bottom of this page. Please note that the languages being offered for the class of 2026 are French and German.
Standard Route
This route will be followed by the majority of students and is designed to provide them with a broad and balanced curriculum. This will lead to a strong set of academic qualifications whilst allowing students to make choices which reflect their attributes and interests.
Students within this route choose 4 options (one from columns E, A, B and C). They will also be able to take subjects which satisfy the requirements of the English Baccalaureate. This is an accreditation given when students are successful in achieving higher grades (5-9) in English literature, English language, maths, two science subjects, a language and one of history and geography. We recommend that students who have the interest, ability and motivation to study and succeed in the English Baccalaureate should strongly consider these options. The English Baccalaureate represents a broad and balanced programme of study which will prepare students well for higher education and employment.
However, we recognise that this subject combination will not suit all students and we are confident that any set of options chosen from the Standard Route will equip students with an excellent set of qualifications which will prepare students well for the future.
If students or parents have concerns over the Standard Route or the English Baccalaureate, they are encouraged to contact the school to discuss this with either the Head of Year or Mr Slingsby (Assistant Head who oversees the options process).
Enhanced Core Curriculum Offer (ECCO)
The route was introduced last year and has been a great success so far. Students take one less option and have additional English and maths lessons in its place. This is targeted at students who are aspiring to reach grade 4 in core subjects and might benefit from some extra to support to make it more likely that they do. Achieving a grade 4 in English and maths can be very significant when students go onto post-16 education as it is compulsory to retake them if this is not achieved. Students considered for this route will be contacted individually. For anyone wanting to know more about this, please contact Mr Slingsby.
Foundation Learning Tier
Some students will particularly benefit from our Level 1 provision. This group of invited students are able to study English, Maths and Science GCSEs and, in addition, are able to study a suite of qualifications delivered by Mr Thompson and his team.
Previous students have achieved well and successfully made the transition to post-16. There are excellent links with post-16 providers and opportunities to visit and work alongside these institutions.
Students enjoy the courses and are appreciative of the high number of opportunities for educational visits which support their learning.
If students or parents would like to discuss this route further, they should contact Mr Thompson at the school.
Setting in Years 10 and 11
Setting is expected to occur in English, Mathematics, Science, Geography, Physical Education and French. All other classes are likely to be of mixed ability.
Choosing Options
Options in the Standard Route and Foundation Learning Tier include both GCSEs and BTECs. BTECs have a large proportion of coursework whereas the amount of coursework in GCSEs varies from subject to subject. Students will need to consider their aptitude for coursework and examinations when selecting options.
There are plenty of teachers who will be able to give advice about options choices including the Head of Year, Miss MacIntyre (Assistant Head and with responsibility for Special Educational Needs), form tutors, subject teachers and heads of subjects/faculties and Mr Slingsby (Assistant Head with responsibility for the KS4 options process).
Questions about specific courses are best addressed to subject staff. Miss MacIntyre will be able to advise SEN students while the Head of Year and form tutors will be well placed to deal with general enquiries.
We always encourage student to focus on subjects they enjoy and subjects which they are good at! The choices of friends should not be taken into consideration as there is absolutely no guarantee they will be with them next year even if they choose all the same things.
Options will be formally submitted electronically via Google forms. This link will be sent out closer to the options deadline (end of March 2023). The options choice table is to help with planning which options to choose but does not need returning to school.
If the preferred option choices are not available or if you have a general comment on the options process, please make sure you complete the boxes on the electronic form when it is sent out.
Are there any restrictions?
Students can only choose one of the art courses

Students can only choose film studies or media studies, not both

Students can only choose one of the business courses
Administration
While every effort is made to give all students their first choices, it is not always possible. Some subjects may not run because of a shortage of students and conversely some may be oversubscribed. We always aim to deal with these situations in the fairest possible manner but no options can be guaranteed.
We also check that students have picked appropriate courses giving a broad and balanced curriculum.
If any amendments are made to subject choices, this will always be done in consultation with students and parents/carers will be fully informed. We will notify students and parents/carers when all options have been finalised.
If you have any difficulty reading the options choice table, please open the attachment below