Soham Village College gets planting to help the environment! ​​​​​​​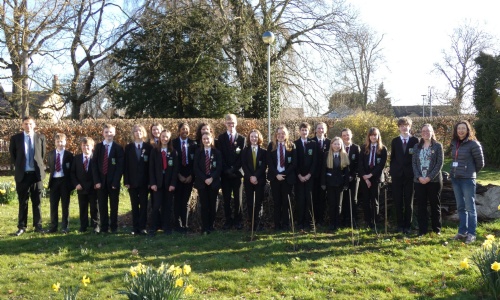 Students, including members of the school's Future Group, took part in an enjoyable and well-attended tree planting event on Monday 27th March. With the support and guidance of Nicola from Wild Burwell, students were able to plant some young trees on the school site as part of actions to support the local environment. The new trees were planted on Beechurst Lawn and are a combination of Bird Cherry, Downy Birch, Rowan and Blackthorn. Nicola from Wild Burwell said "it was a great event! The students were very interested and enthusiastic"
The Future Group at Soham Village College have been keen to make an active change and this activity had been planned and organised through their own hard work and communication with the local community. The trees will provide multiple purposes from an environmental point of view including helping with the local carbon cycle and providing habitats for local wildlife. The students have provided a legacy that future students will have the opportunity to enjoy.