Achieving 'excellence with care' in Recent Ofsted Inspection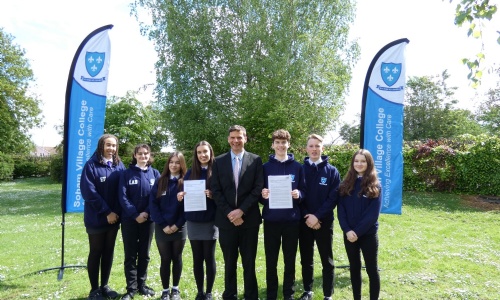 Soham Village College has been praised by Ofsted following its recent inspection. Inspectors found evidence of improvement to show that the school could be judged as outstanding if it had a graded inspection.
The inspectors commended the school for achieving 'excellence with care', commenting that 'leaders and staff are ambitious for all pupils to succeed'.
Teachers were praised for understanding the needs of their students, as well as their approach to teaching, which helps pupils 'to make rapid progress across the curriculum'.
The inspection recognised not only the academic progress the students make at the school, but also their learning outside the classroom. Soham Village College's extra-curricular clubs, PSHE curriculum and careers programme were commended, with the report noting that 'in addition to learning the curriculum and achieving highly in examinations', the students 'become active, considerate, and resilient young people'.
The inspectors stated that 'pupils are very proud to attend this school'. They praised students for the way they 'treat each other and adults with respect' and commented that students 'behave very well in and out of the classroom'.
Headteacher, Jon Hampson, said, "I am delighted that Ofsted has fully recognised the hard work and positive attitudes of our students as well as the commitment and expertise of our staff."
To view the recent report please visit our website: Soham Village College - Ofsted Reports (sohamvc.org)