Open Events 2021
Welcome to families who are considering Soham Village College as the setting for their child's secondary education. We appreciate that this is a hugely important decision and this page is designed to provide you with all the relevant information including details of our forthcoming Open Events.
Live Open Evening 2021: Thursday 23rd September, 6-8pm
To learn more about the school, we warmly invite prospective students and their parents and carers to our Open Evening which will include opportunities to meet students and staff, to attend a talk by the Headteacher and to see our fantastic facilities.
In order to keep everyone safe, a number of measures will be in place this year. To restrict numbers, we ask that only current year 6 students and their families attend. Three talks will be given by the headteacher and places can be reserved for 6.00pm, 6.40pm or 7.20pm. A summary of all the COVID measures in place will be sent to families who have confirmed their attendance by Tuesday 21st September. Bookings will remain open until 4pm on Thursday 23rd September but families are encouraged to book early in order to secure their preferred time to visit.
If you intend to attend our Open Evening, please follow the link below:
To view out Open Evening Risk Assessment please click here.
Virtual Open Evening 2021
We understand that some families may not be able to attend the Live Open Evening. Therefore, links are included on this page to the school prospectus, a 3D Map of the school and a series of videos. The videos explain the curriculum on offer in our different subject areas; the support offered to students as they transition from year 6 to 7; the school's extensive extra-curricular opportunities and the school's approach to student wellbeing and support.
The headteacher's talk from the Open Evening will also be recorded and if you would like access to this from Monday 27th September, please follow the link below:
Prospectus 2022 - 23

Virtual Tour of Soham Village College
Please click on the image below to enjoy the virtual tour of our school site.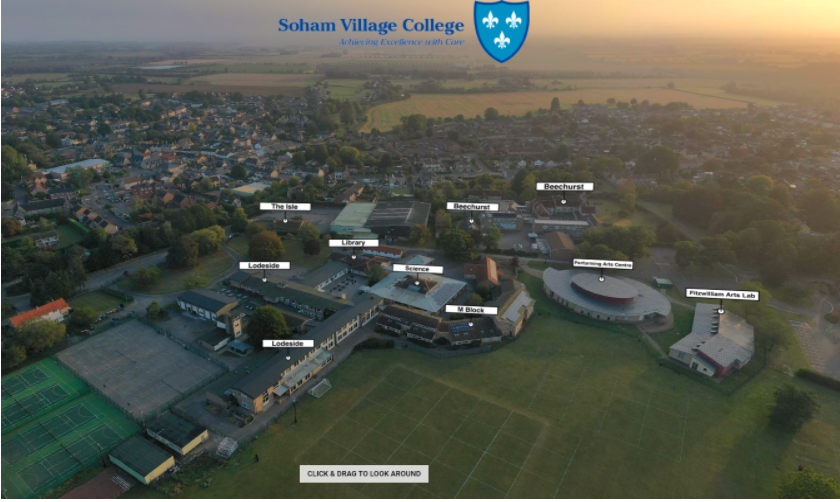 Subject Videos
Year 6 to Year Transition and Extra-Curricular Video
Wellbeing and Support Video
Live Open Morning Tours 2021
As in previous years, we will also be offering tours of the school led by a member of the Senior Leadership Team. Places for these will be limited, so we encourage you to return to this section of the webpage when the booking system goes live on Monday 27th September.